How to Unroot Android Device with Kingo SuperUser
---
Rooting Android device can help you make the most of their phones and tablets, but it certainly isn't for everyone. Sometimes, rooting can void the warranty which resulting in an unfortunate situation, even may brick the device. When it comes to selling a phone, many buyers want the "out of box" experience, as if the device were brand new. That's why users may want to unroot the Android device.
KingoRoot APK ( Android Version ) is the easiest and fastest root tool for almost all the Android devices as well as unrooting. KingoRoot APK, along with any other one-click root tools, are all exploit-based. It means that your device is being rooted by them exploit certain system vulnerabilities. After having accessed to your system partition, certain su binary files and superuser app will be placed in it. Normally, they will be placed in /system/app: superuser.apk or the apk of any other management tool. Having got knowledge of this, you may know how to completely remove it.
If you have rooted Android device with KingoRoot APK, you may be familiar with the preparation, if not, it doesn't matter. The following content will guide you to unroot Android step by step in case everything is done right.
Preparations for Unrooting
You have already rooted your Android with KingoRoot APK, you will find the icon of Kingo ROOT and Kingo Superuser. If not, free download KingoRoot APK and install it on your Android device.
Make sure device is powered ON.
Enable USB Debugging on.
Internet connection necessary ( WIFI network suggested )
Step by Step Unroot Android Device
Step 1: Find the icon of SuperUser on device and click to lanuch it.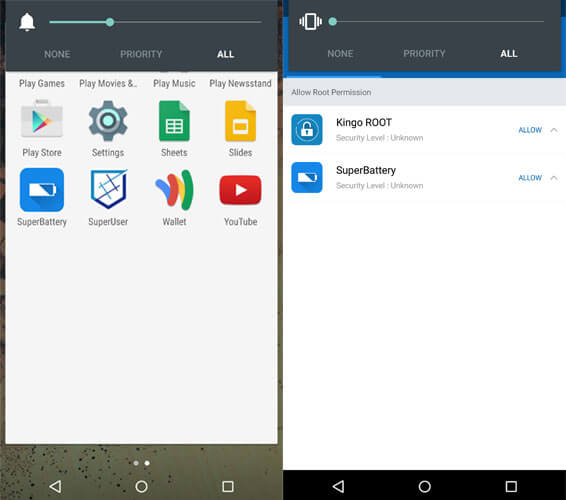 Step 2: Update the Kingo SuperUser to the latest version and click three dots upper right, then find the option of "Remove Root".
Step 3: Click "Remove Root" and click "CONTINUE".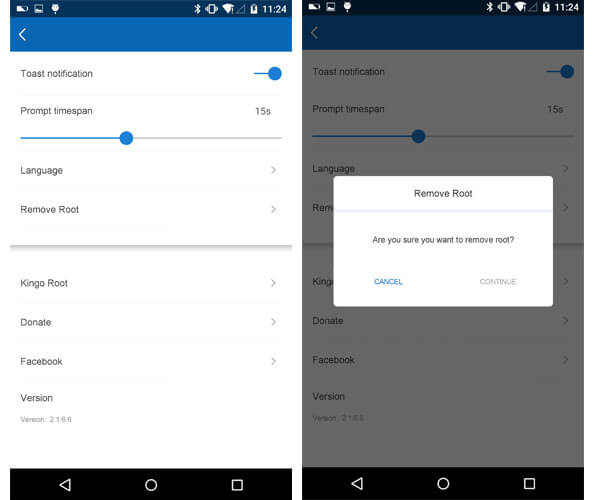 Step 4: It's done and your device may reboot.
Due to technical reasons, sometimes the files may not be completely deleted. If the files are not completely removed in this way, please refer to the first method and removing root via Kingo Android Root ( PC Version ).
---
KingoRoot on Windows
KingoRoot Android on Windows has the highest success rate. It supports almost any Android device and version.

KingoRoot for Android
KingoRoot for Android is the most convenient and powerful apk root tool. Root any Android device and version without connecting to PC.

Top Posts