OnePlus 6/5T could open its camera by duble-tapping power button after rooting with Kingoroot/Magisk
---
OnePlus 6 is one of the best selling flagships of the company. However, the software experience isn't exactly identical in all regions. For example, the double tap power button gesture to launch the camera is disable. This is due to laws in this country that require smartphone to have a triple-tap power button gesture to dial emergency services. Another feature that haven't packed in this country is "Turn on Wi-Fi automatically" feature.
If you got a OnePlus 5T or OnePlus 5 in India, you are in luck that you are enabled to use these functions because Kingoroot can get root promission for your Android that you can do what you can to your mobile. KingoRoot is the one-click root tool that provides both apk and software for you to complete this tasks.
How to Root Android With KingoRoot APK Version.
Preparation:
Device powered on.
Enough battery Level (above 50%).
Internet connection necessary.
Backup everything in your device
Step 1: Free Download KingoRoot APK from KingoRoot official website: www.kingoapp.com.

KingoRoot APK version can one-click root Android without connecting to PC. During downloading, if Chrome warns you about KingoRoot.apk, just click "OK" to proceed.
Step 2: Install KingoRoot APK
If you receive the "Install Block" information, take the following steps. Head to phone Settings > Security > Unknown sources > Check the box and allow download from unknown source.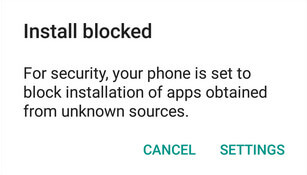 Then find the APK in your "Download" APP and install the KingoRoot APK.
Step 3: Launch "Kingo ROOT" app and start rooting.
Launch the KingoRoot app and click "One Click Root" to start.
Step 4: Getting the Root Result
If failed to root, please try with the KingoRoot PC version below, for its higher successful rate of rooting than APK due to some technical reasons.
How to root OnePlus 6/5T with Magisk
Well, if you have tried both APK and PC software but fail. Then you can try a Magisk module created by XDA Senior Member. You can visit their tutorials to complete rooting.
---
KingoRoot on Windows
KingoRoot Android on Windows has the highest success rate. It supports almost any Android device and version.

KingoRoot for Android
KingoRoot for Android is the most convenient and powerful apk root tool. Root any Android device and version without connecting to PC.

Top Posts