How to Root Your Android Tablet with KingoRoot
Why I root my Android tablet or smartphone? Rooting any android phone/tablet opens you up to administrator privileges, therefore allowing you to access system files on your phone. After gaining root permission, you are allowed to download apps for rooted devices and improve an Android phone/tablet's performance.
How can you root your tablet? KingoRoot is the best top root apps that provides both PC version and APK for granting root privilege on Android tablets and cellphones. KingoRoot PC online root enables you to get root on Android tablet with higher success rate. KingoRoot APK is the one-click root software for Android. Both easy and quick root methods enable you to completely gain root access on Android tablets and cell phones.
Steps of Quick and Easy Rooting on Tablets/Smartphones via KingoRoot APK
Step 1: Free download KingoRoot APK

Downloading root tool will be automatically started. If Chrome warns you about this root download, click "OK" to proceed.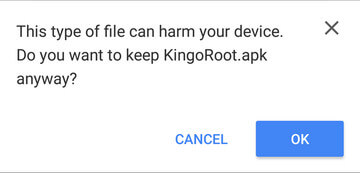 Step 2: Install KingoRoot APK on Your Tablet/Smartphone
*Note: you may receive the install block message. Take the following steps:
Install Blocked: Settings > Security > Unknown sources > Check the box and allow.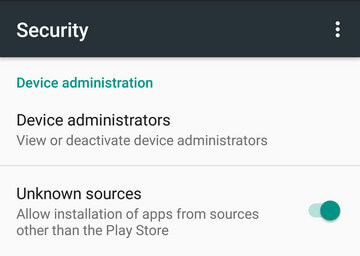 Step 3: Launch "Kingo ROOT" and Start Rooting
Just click "One Click Root" to start rooting tablet or mobile phone.
Step 4: Root Succeeded/Failed and Check Root
Kingoroot has a higher success rate of rooting than iroot, kingroot and so on. And you can download the Root checker app to help you check root.
If KingoRoot APK failed to root your tablet/mobile phone after several trials, please refer to KingoRoot on Windows with a higher success rate due to technical reasons.
How to Root Android with KingoRoot (PC Version)
After Rooting/Jailbreaking My Tablet and Smartphones via KingoRoot
Rooting Android with the best root tool of KingoRoot will bring you many benefits:
Customization. Customization makes the tablet or smartphone to be truly yours and the unique one in the world. You have the ability to modify the systems files since you have got the root access. And thus, you can change the wallpaper, fonts and whatever.
Easy backup. Gaining the root permission means you have rooted system of the Android tablet. Therefore, you can easily backup system data by certain root needed apps.
Block/Remove ads. Ads are a necessary evil. Each time, when you open the apps or games and start using apps or playing games, the ads will pop-up. Jailbreaking your tablet and smartphone enables you to block ads and get better performance of tablet and smartphone. KingoRoot is game root tool for no ads and better gaming performance.
KingoRoot on Windows
KingoRoot Android on Windows has the highest success rate. It supports almost any Android device and version.

KingoRoot for Android
KingoRoot for Android is the most convenient and powerful apk root tool. Root any Android device and version without connecting to PC.

Top Posts